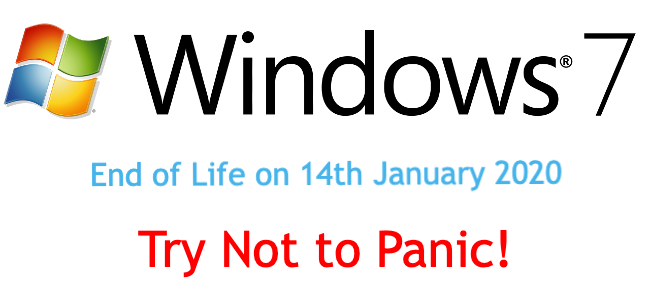 During its 10-year lifespan, Windows 7 has become one of the most successful operating systems in Microsoft's history – earning loyalty from its users because of its robust and stable characteristics.

Support for Windows 7 by Microsoft ends on January 14th 2020. From that date, there will be no more maintenance or security patches for the operating system – leaving remaining users of Windows 7 vulnerable to any technical or security flaws discovered from that day onwards. See Microsoft's article. Furthermore, support for printers and scanners will cease and software companies will concentrate all of their efforts on supporting their Windows 10 versions.

Large organisations or Multinationals that are Microsoft Enterprise-level customers will be able to subscribe to Extended Security Updates (ESU) but the costs will double per device year-on-year and will only provide for threats considered "critical" or "important" by Microsoft. This is NOT a guarantee of a trouble-free future and the costs for extending such limited support will be significant.

From January 14th 2020, Windows 7 will be the primary target for hackers and organised criminals and there are already reports from within the IT Security industry that plans to exploit zero-day vulnerabilities (bugs in the operating system code that have been there since the beginning) by using malware are known to be already underway.

Viruses and ransomeware targeted at operating system flaws are part of a worldwide multi-billion dollar criminal industry. Anti-Virus and Anti-Malware software CANNOT protect against such fundamental security flaws in the underlying Windows 7 operating system.

The only reliable solution is to migrate away from unsupported technologies. Continued use of Windows 7 after January 2020 within your business constitutes a professional Security & Compliance issue and may even be considered a breach of Professional Certification. Data losses resulting from a security breach caused by outdated and unsupported operating systems would certainly be a breach of GDPR legislation.

IT Professional Recommendations:
Migrate all existing Windows 7 installations to a supported Windows version i.e. Windows 10.
Isolate any remaining installations from the internet using technologies such as Virtualisation or Network-Proxy Services.
It is important to ACT NOW: operating system migration can be complex and take a significant amount of time! Magikos IT can help businesses get their Windows 7 migrations underway and completed in time for the January 14th 2020 deadline. Clear unbiased advice plus real-world practical knowledge and experience makes Magikos IT a logical choice to partner for this project.
If you are unsure about what version of Windows you are using, if you would like some advice or maybe even an IT audit undertaken, then please do get in touch either by clicking the button below, completing one of the Callback Forms on the website or by clicking the link to visit the 'Contact' page. It's as easy as that, so try not to panic… yet!