The Microsoft Windows 10 free upgrade process has begun and Magikos IT recommends caution to those users who are eager to register!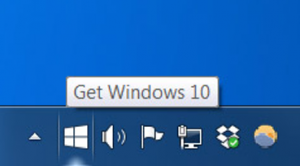 The Windows Update service has begun rolling out icons (appearing in the desktop system tray) prompting users to register for the free Microsoft Windows 10 upgrade offer that will be available in early July 2015.
Download the Full PDF Article here – for reference or to share with others who may be considering this upgrade.
All operating system upgrades pose a small but significant risk to existing software and data held on the machine. Other noteworthy issues include:
Windows Media centre will not be part of Windows 10.
There is no included DVD playback software.
Windows 10 Home edition will have automatic updates ONLY.
Magikos IT recommends that an operating system upgrade should be carried out by trained IT professionals. However, if users wish to attempt the upgrade themselves they must consider the following issues beforehand:
Does the operating system NEED to be upgraded? Windows 7 extended support from Microsoft will continue until January 2020 and Windows 8 until January 2023 – if the operating system is working as it should, is there any pressing BUSINESS needs to upgrade?
Do you have a complete and tested backup of the data held on the PC? It is possible that an in-place upgrade could fail and data loss could occur.
Do you have an alternative PC that can be used while the upgrade is in progress? In-place upgrades can be time-consuming, particularly if there are any issues or problems encountered – it is important to make sure you are able to continue working.
Is the PC hardware capable of running Windows 10? Full specification details are available on the Microsoft website and should be considered as a MINIMUM specification.
Are any relevant external devices (such as DVD drives, printers and USB devices) compatible with the new Windows version?
Is the software used on the PC tested and compatible with the new Windows version? This is particularly important for business users – ensure that Accounts, CRM, Graphics, Databases, etc are certified and that you have the latest versions.
Ensure that all licence keys for installed software are available before starting the upgrade process – it is possible that some software will need to re-register with the manufacturer once the Windows 10 upgrade is complete.
Do you have any IT support in case you run into problems?
Finally, allocate plenty of time for the upgrade process and have a plan to continue working should you run into any problems. Read all on-screen messages carefully and research their implications if you do not understand. Make careful notes of any error messages or warnings that might be useful in a recovery scenario. Better still, leave the upgrade to Magikos IT. We have the skills and experience to carry out your Windows 10 upgrade, leaving you with peace of mind and time better used for running your business.
Download the Full PDF Article here – for reference or to share with others who may be considering this upgrade.
For a no-obligation discussion of your Windows 10 upgrade requirements, contact Magikos IT by clicking the button below or use the link to the 'Contact' page.